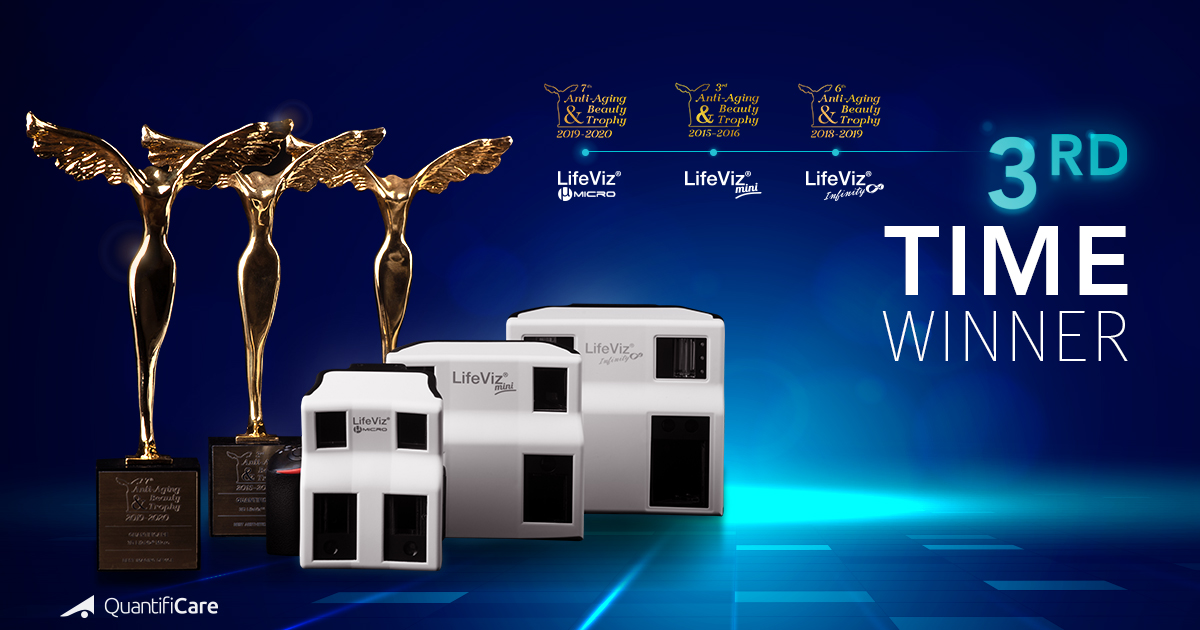 Monaco, France / November 19th 2019 – In recognition of its dedication to breakthrough innovations in the field of Aesthetic and Anti-aging Medicine, Quantificare was awarded the Best Aesthetic Device for the LifeViz® Micro at the 2019 Monte-Carlo Aesthetics (MCA) Congress held in Monaco, France on November 8th. A third-time winner, Quantificare had already received the distinction in 2015 with the LifeViz® Mini and again in 2018 with the LifeViz® Infinity. The respective honors came despite some tough competition from many other contenders.
"We are proud to have been awarded Best Aesthetic Device for the third time!" said Dr. Jean-Philippe Thirion, Founder and Chief Executive Officer of QuantifiCare. "This award provides validation from external aesthetic experts of Quantificare's continual commitment to research and providing imaging innovations to our clients to improve the lives of their patients."
The Best Aesthetic Device honors the best-in-class innovative and development initiatives based on the following criteria: originality, creativity, innovation and insightful research of the product which demonstrates its effectiveness and value.
About the LifeViz® Micro:
Designed for close-up, skin surface images of any area of the body or face, the LifeViz® Micro is an additional tool for studies performed in practices, research sites and testing laboratories. Its high precision in a portable device is the key to capture, visualize and analyze superior quality, life-like 3D images of small areas below or above the skin surface (lesions, scars, fine wrinkles, acne, ulcers, warts, wounds, etc.) and objectively quantify them.
About Quantificare:
Founded in 2001, Quantificare is a global leader in 2D/3D imaging systems and services helping Sponsors and CROs to bring quality and simplicity to the evaluation of images for clinical trials in dermatology, aesthetics, wound care and oncology. A spin off of INRIA, Quantificare has built on its clinical experience and expanded to provide a full range of innovative 3D imaging systems for dermatologists and plastic surgeons to visualize pre-post treatments, measure and simulate surgical interventions. QuantifiCare has conducted hundreds of clinical trials and our patented award-winning 3D LifeViz® systems are used in over sixty countries. Headquartered in France with operations in the USA, Latin America and Asia, QuantifiCare is poised for tremendous growth.