THE LIFEVIZ® INFINITY TURNS PREMIUM
New features for an even faster experience.
The first wireless 3D camera on the market.
There's no question that the LifeViz® Infinity camera has already become a must-have for all those who have tried it. Patient communication and satisfaction, streamlined workflow and minimal spatial footprint are only some of the many positives reported by satisfied LifeViz® users. This all-rounder easily captures clear images of face, body and breast, with a variety of quantifiable and comparative measurements available,
But as our daily life becomes ever-faster, even time spent on tasks such as sorting images and connecting cables ought to be optimized. That is why QuantifiCare has imagined a LifeViz® experience that is even faster and more efficient than ever before.
Meet the brand new LifeViz® Infinity Pro. It has all the advantages of the  LifeViz® Infinity, featuring a global market first and other exciting extras.
What's new?
Wireless connection and remote data capture: integrated wifi and cordless image transfer – say goodbye to and receive images direct to your desk.
Artificial intelligence: faster and automatic image transfer via the detection and classification of image sets. Avoid mistakes and save time and energy.
Even better image quality thanks to a professional hybrid camera: better visualization and data analysis.
For busy professionals, fans of speed and efficiency and lovers of hi-tech advances, this new upgraded camera is a must-have. Born out of QuantifiCare's drive to be the global leader in the field of 3D imagery, this is the very first camera of its kind to offer wireless connection and integrated AI. Be a pioneer and adopt it now.
THE SAME PATIENT- AND USER-FRIENDLY EXPERIENCE AS THE LIFEVIZ® INFINITY, ONLY FASTER and SMARTER
LifeViz® Infinity and Infinity Pro, at a glance: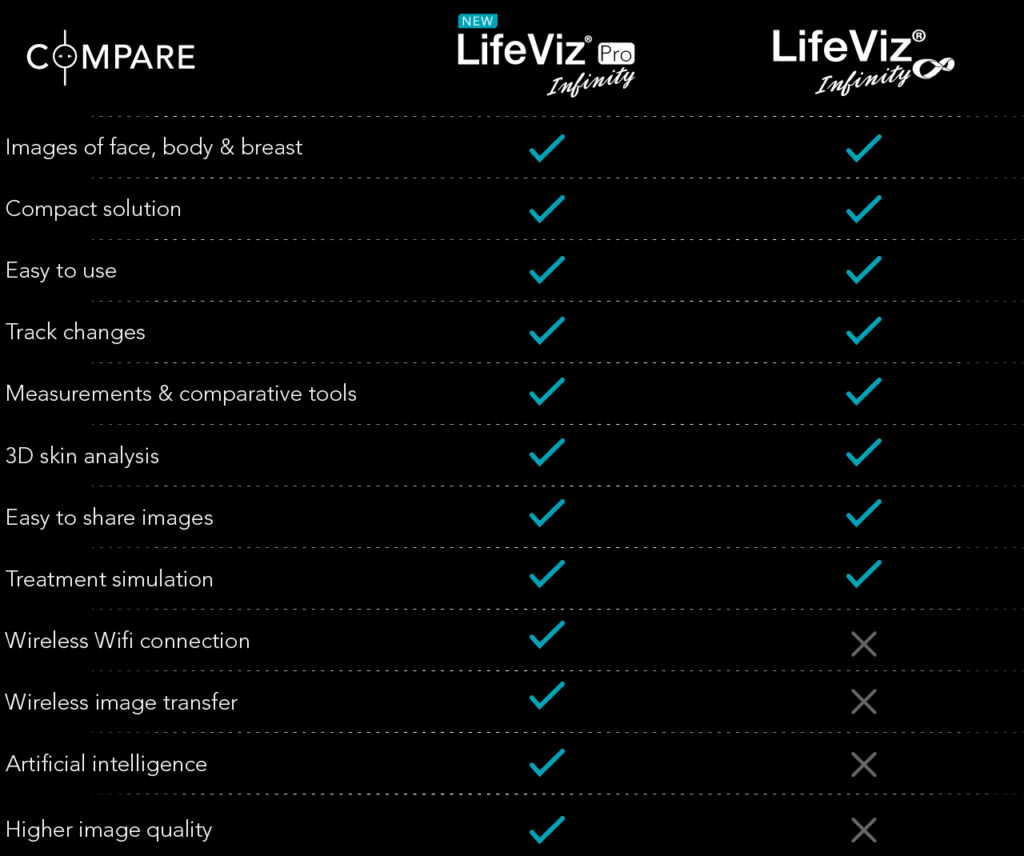 Just launched at the AMWC conference in Monaco, limited stocks are available so pre-order your LifeViz® Infinity Pro now to be sure to be among the first served.