LifeViz® Body : A portable 3D Imaging System for Body & Breast
The LifeViz® Body is the first portable 3D imaging system capable of capturing 360° body and breast in order to simulate body contouring procedures, breast augmentation and photo-document before/after interventions. 
The LifeViz® Body is a compact system composed of a 3D camera mounted on a tripod with a turntable allowing quick capture of a 360° 3D body image. In hand-held mode, the system can generate 3D images of breast without blocking an entire exam room with cumbersome equipment.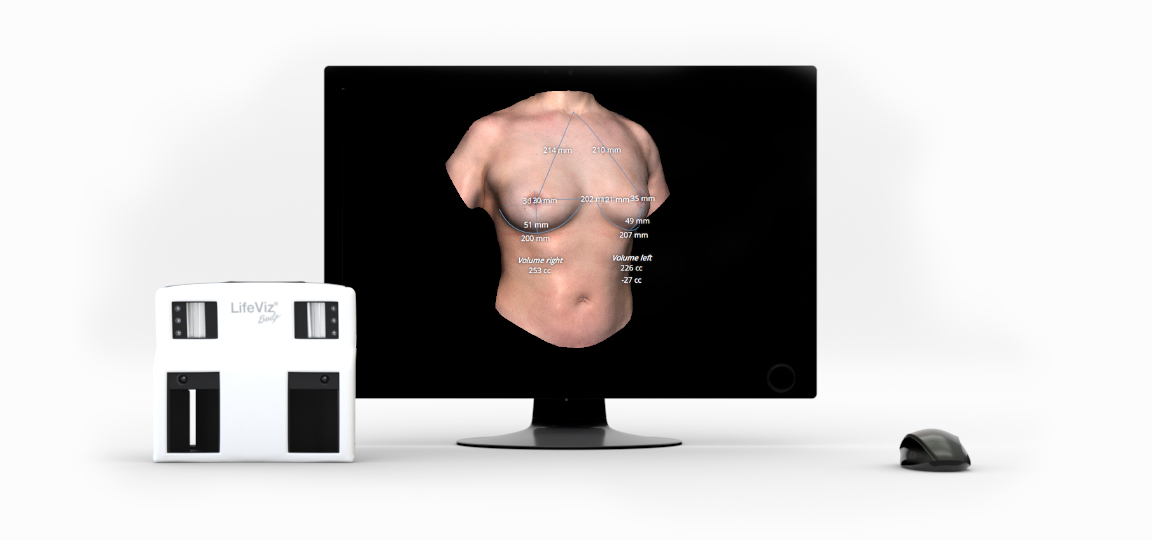 3D in pre-Op consultation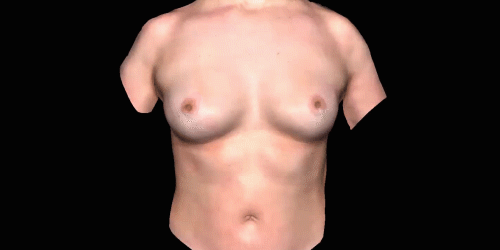 3D images display a full illustration of body and skin shapes. A 360° visualization is a must for all body areas which should be considered as a whole and not as disjointed parts.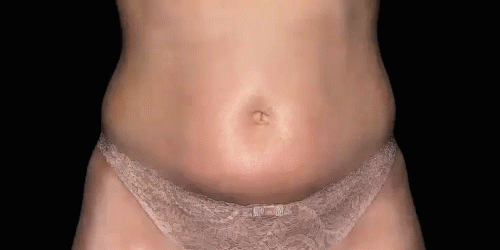 Obtain baseline measurements with one-click to better manage patient expectations. Whether using a minimally invasive or non-invasive procedure, the assessment performed will facilitate the patient's understanding of the outcomes.

Breast augmentation can be a hard decision to make for a patient. With one click, assess your patients breast shape and provide guidance.

Use body shaping devices more effectively by quantifying even subtle volume changes efficiently. Visualize an accurate 3D representation to help patients see their future potential after augmentation mammoplasty. Use real-time simulations to align patient expectations with their body shape.

The patient can better visualize and understand which implant size will be the most suitable and consequently make a more informed decision.
3D in post-Op consultation

The LifeViz® Body is the ultimate tool for any aesthetic physician giving the best return on investment for energy-based devices.

Evaluate your patient's breast & body with accurate & precise 3D analysis. Get breast symmetry, torso circumference and many other measurements such as perimeter, length, depth, surface, distance and width.
The LifeViz® Body provides a new way to assess the body. In aesthetics, volume is what matters: regardless of the procedure performed, there will be volume and shape changes.

The system quantifies volume changes for either invasive or non-invasive body contouring treatments and allows image comparisons from visit to visit. Quickly calculate the volume difference of a treated area allowing objective doctor-patient communication.

Assess the body shape evolution with the Silhouette feature. The tool enables visualization of an overlay of before and after images to confirm treatment efficacy resulting in greater patient satisfaction.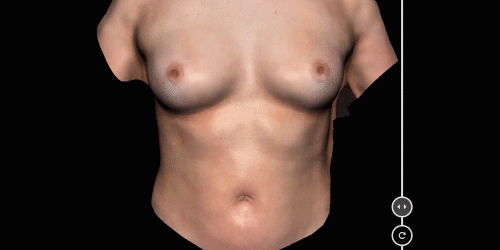 Easily show results by sliding between before to after images to show differences in a very clear and animated way. Illustrate your artistry with your peers or patients.
Overlap before and after images for specific regions to compare certain concentrated areas. Whether showing the position of an abdominoplasty scar or a tattoo removal, the fusion mode will be able to help.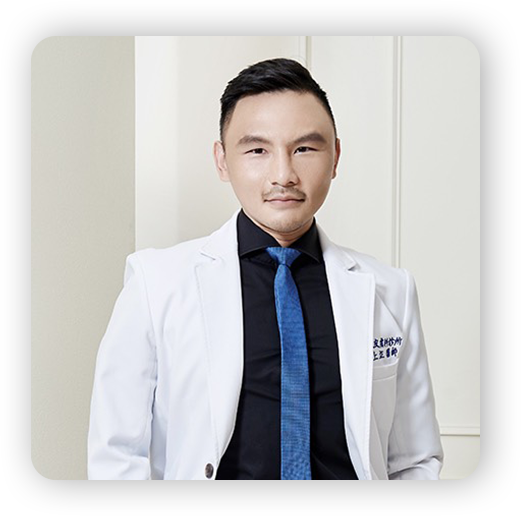 LifeViz® is the most convenient imaging system I have ever used, and always helps me swiftly acquire precise measurements and calculations.
Before I purchased a LifeViz® camera, I had been using imaging systems for documentation in my clinic for more than ten years. Therefore, I had a huge image database of more than 100T that allowed me to compare and evaluate the treatment results at any time I desired. Nonetheless, whenever I had the need to take measurements from the image or to calculate volume changes at different points of time for follow-up observations, the time-consuming image matching steps and lack of consistency in the results had been bothering me, until one day I discovered this cutting-edge image system, LifeViz®, in a global conference.
I have both the LifeViz® Mini and Body in my clinic. Both of them process and analyse images in a very precise way, which allows me to compare images in several different ways depending on my need, and harvest consistent measurements and calculations swiftly and efficiently whenever I come back to review those 3D images. They have become indispensable devices in my daily practice!
Dr. Lin ShangLi, Dermatologist, Taiwan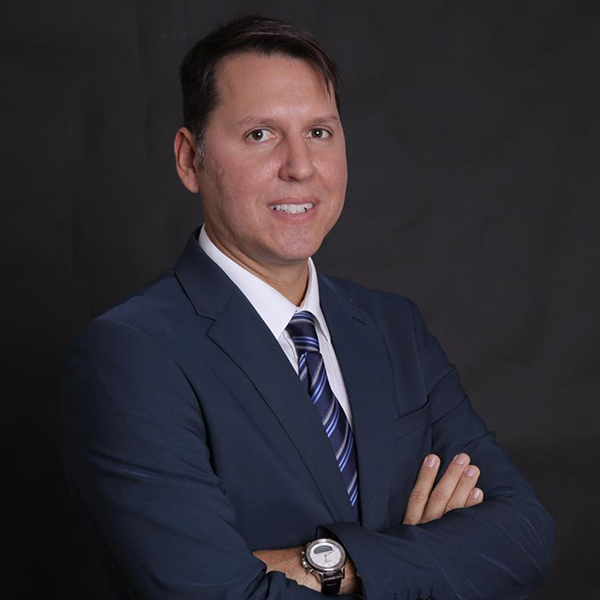 It is rewarding to see the smile on my patients' faces
As a Plastic Surgeon, it is essential for me to objectify the patient's anatomy before surgical intervention. Patients often forget what they looked like before surgery, or lose track of the changes that have gradually taken place. It is rewarding to see the smile on their faces when I show them a comparison of their images before surgery. I find it extremely useful to be able to perform simulations in body areas such as the breasts too.
In addition, being able to do academic presentations with this system has been beneficial. I recommend QuantifiCare as a great tool to improve the quality of the consultations and to follow the evolution of patient treatments.
Dr. Lucas Zurlo, Plastic surgeon, Argentina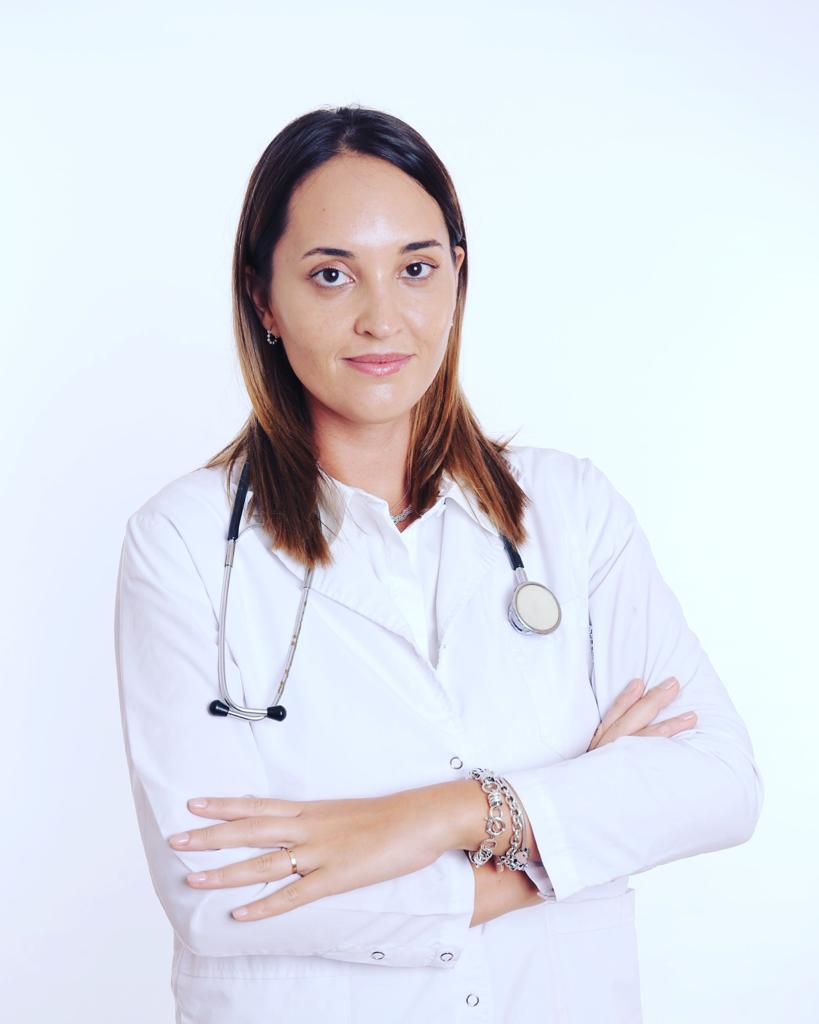 With the LiveViz® Mini, we can obtain reliable and comparable images without the need for extensive training
It is very important for me, as an injector expert, to be able to obtain objective results. Before QuantifiCare, we had a hard time taking pictures with the same lighting, positioning and gestures and with this device, we no longer need to dedicate a special area of our practice for picture taking.

Today, we use this technology to evaluate patient's pre-operation to decide on the best treatment plan as well as objectively visualize changes post-operation. I frequently use tools that allow me to evaluate skin dyschromia and view before and after laser treatments. With the LiveViz® Mini, we can obtain reliable and comparable images without the need for extensive training, which allows any member of the staff to access documented images. The system is much more than a marketing tool, it improves my daily practice.
Dr. Julia de la Torre, Aesthetic physician, Argentina
What You See Is What You Get
Photos enrichen and liven up the use of mundane words or text. Visualizing procedure results is a powerful ability and a direct outcome from delivering high-quality care.
Customer Support Package
The Serenity package was established to strengthen the relationship we have with our customers. Customers will have access to the latest software, real-time customer support and dedicated training sessions.
*QuantifiCare Suite is intended for informational purposes and is to be used as a communication tool between doctors and patients. The data provided by the software is not a substitute for professional medical advice, diagnosis, or treatment. The software does not replace the physician's expertise.
QuantifiCare accepts no responsibility for any actions taken on the basis of the information provided by QuantifiCare Suite.