LifeViz® Infinity : All in One System for Face, Body & Breast
The LifeViz® Infinity is a comprehensive 3D solution for face, body and breast procedures. Capture an accurate representation to help patients see themselves in 3D. Open a dialogue with patients and enhance the overall consultation experience.
The LifeViz® Infinity is a unique system composed of a 3D camera mounted on a tripod with a turntable allowing quick capture of a 360° 3D body image. In hand-held mode, the camera is capable of generating 3D images of face and breast to simulate procedures and photo-document before/after interventions, without blocking an entire exam room with cumbersome equipment.
Adapted for a wide range of needs, the compact system offers cutting edge 3D image quality and reproducibility allowing better physician-patient communication and greater conversions.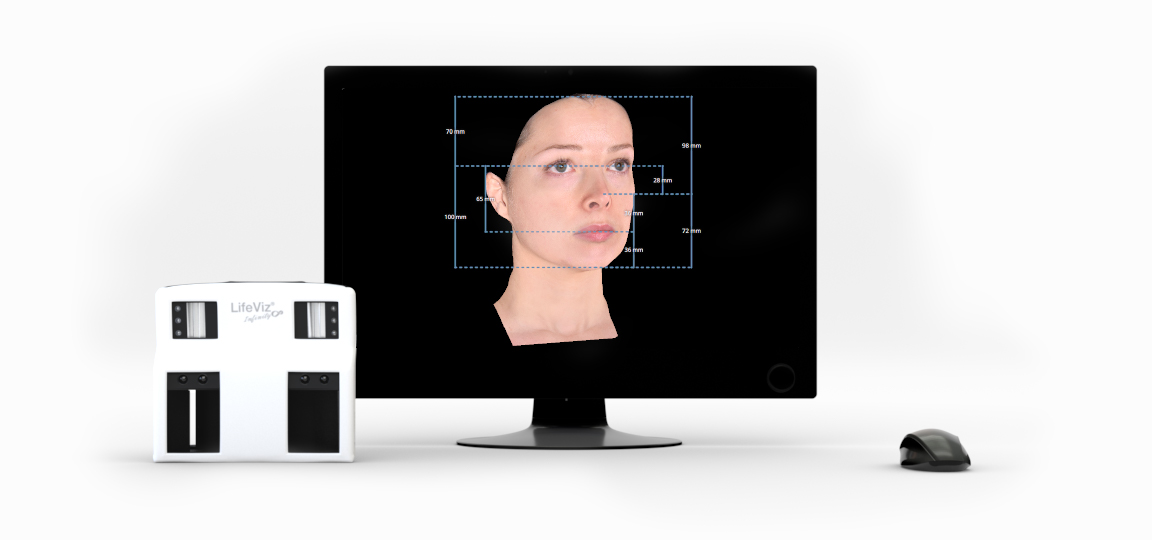 3D in pre-Op consultation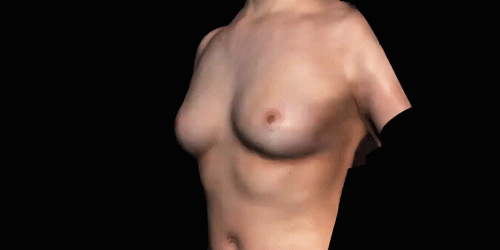 3D reconstruction assumes an increasing role in evaluating face, body & breast in 3D. Incorporating 3D images into a consultation ensures that the physician can visualize the patient's body from multiple angles and at different zoom levels. Consultations enter a new era of 3D with standardized before-after images.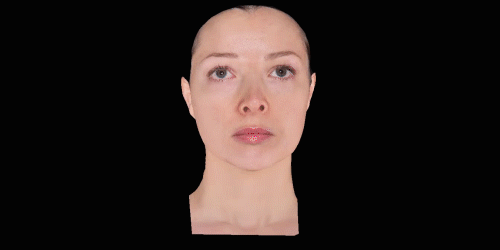 Apply a global standard of beauty to your patients. Assess facial angles, measurements and ratios for the height and width and check how close their face relates to the Golden Ratio. Quickly obtain 360° measurements for body shaping and breast measurements for augmentation mammoplasty in order to assess the shape of a patient before any procedure and establish an open dialogue.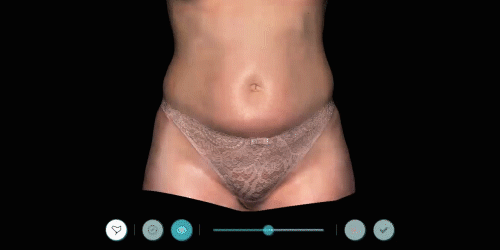 Reassure your patients and facilitate more comprehensive and harmonious outcomes thanks to a live simulation. Quantify expected volume change in advance for facial rejuvenation, body contouring & breast surgery.
With a single click, evaluate your patient's skin health for the following criteria:

Wrinkles – Pores – Oiliness – Evenness – Red spots / Brown spots – Red map / Brown map
3D in post-Op consultation

The LifeViz® Infinity supports all stages of the consultation process from the first visit to follow-ups. Bring objective assessment and transparency when evaluating patient's facial harmony, body slimming or breast augmentation. Export high quality images to showcase your results using various comparison options.
Impactful 3D comparisons are one of the most relevant ways to bring loyalty and open communication with your patients. Easily track results and visualize and quantify volume changes with a color map to illustrate your expertise and provides objective assessments.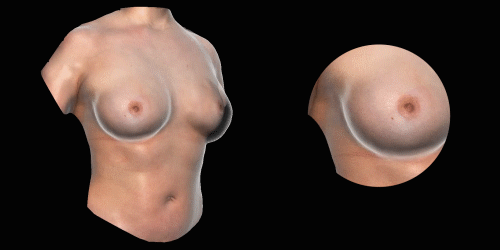 Gauge shape differences using the Silhouette feature. Overlay 3D pre and post operation images to easily portray before and after results.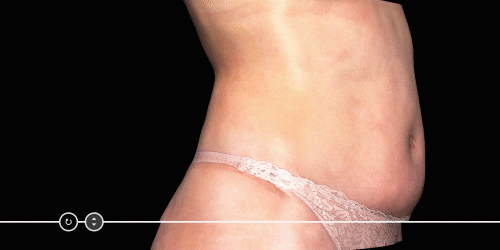 Slide between before and after images which will reassure patients by allowing them to easily view changes. Check your artistry and share your work with your peers.

The fusion feature highlights differences that may be hard to see with the naked eye. Reassure patients by running the focus over select concentrated areas.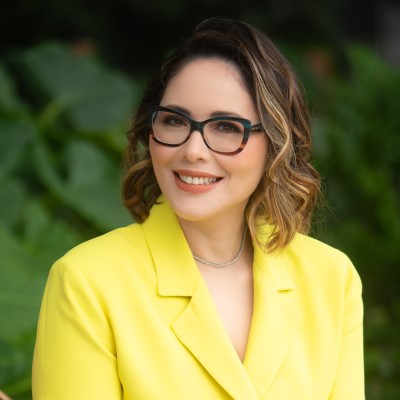 QuantifiCare's LifeViz® Infinity technology, allows us to record the details of each individual's beauty.
We are in the heart of the Amazon, a region well-known in the world for the wealth of its natural resources, where the people have on their skin the characteristics of a mixing as vast as Brazil itself.
I am very happy to be able to offer state-of-the-art technology to patients; we are the first clinic in Latin America to have 2 sets of QuantifiCare's LifeViz® Infinity technology, which allows us to record the details of each individual's beauty and track the progress of their treatment through a feature only found in the best clinics in the world.
Dr. Adriana Mariano, Dermatologist, Brazil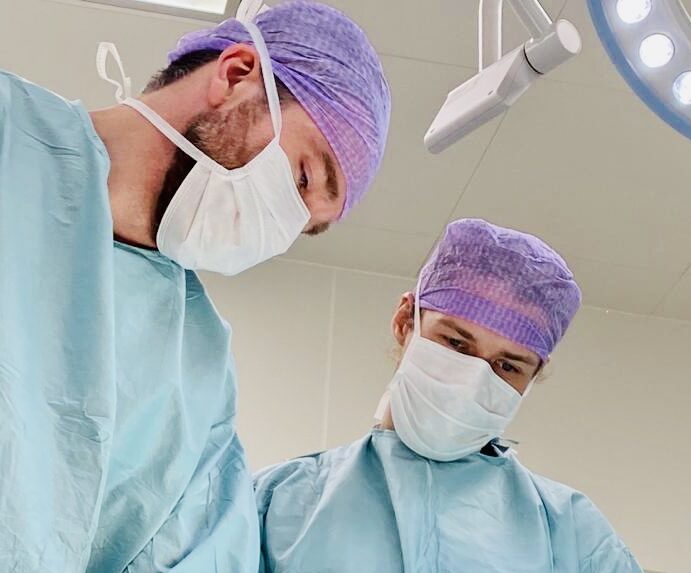 QuantifiCare – A reliable partner with phenomenal customer service
The 3D LifeViz® Infinity camera system is reliable, precise and easy to use. Its Software Suite® is a simple interface that provides tools for thorough understanding of the results of procedures for both patients and the physician. We at Stemform love to work with the QuantifiCare Team, because they provide a phenomenal service and take into account users' requests in order to adapt as much as possible to their needs.

MS. Frederik Mamsen Dr. Stig-Frederik Trojahn Kølle,

Head Surgeon of Plastic Surgery, Stemform Søborg, Denmark
Dr. Stig-Frederik Trojahn Kølle Head Surgeon of Plastic Surgery, Stemform Søborg, Denmark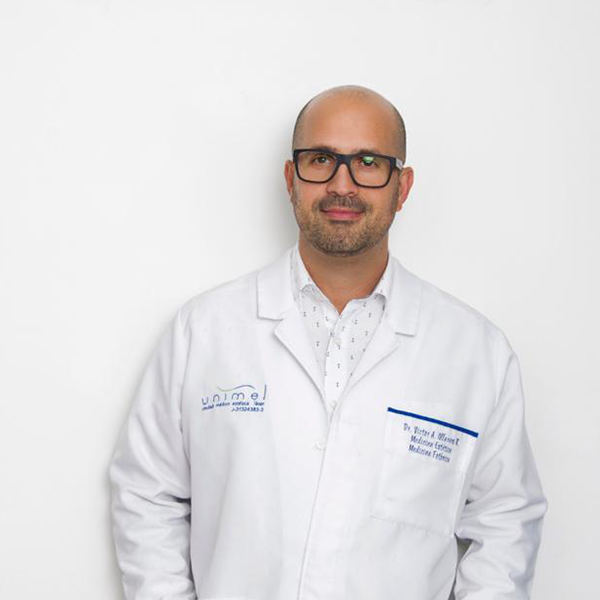 QuantifiCare's LifeViz® Infinity is an invaluable tool in my daily practice
Utilizing the best technology available has always been one of my professional goals. When speaking about the best 3D imaging device, QuantifiCare's LifeViz Infinity is the first that comes to mind! Since it has arrived in my clinic, I've been able to increase my patient's satisfaction because my patients love to see themselves in 3D. I can easily explain which treatments best suites their needs and show all the changes achieved from different angles. Furthermore, as an international speaker, I can present high-quality, accurate images which is absolutely necessary for all lectures. A good photography system is an invaluable tool in my daily practice so I'm pleased that, with QuantifiCare, I get that and more!
Dr. Víctor Ollarves, Aesthetic Physician, Venezuela
Improve doctor-patient communication
Reach a common understanding of the patients desired outcome by forming a doctor-patient relationship based on open communication. Good communication skills significantly improve patient satisfaction, thus leading to enhanced patient outcomes.
Customer Support Package
The relationship we create with our customers are very important to us which is why we have established the Serenity package. This subscription includes access to the latest software, around the clock support with a dedicated expert and additional training hours.
*QuantifiCare Suite is intended for informational purposes and is to be used as a communication tool between doctors and patients. The data provided by the software is not a substitute for professional medical advice, diagnosis, or treatment. The software does not replace the physician's expertise.
QuantifiCare accepts no responsibility for any actions taken on the basis of the information provided by QuantifiCare Suite.